Why Some Aren't Smiling About 2015's Record $11 Billion Domestic Box Office – Final Market Share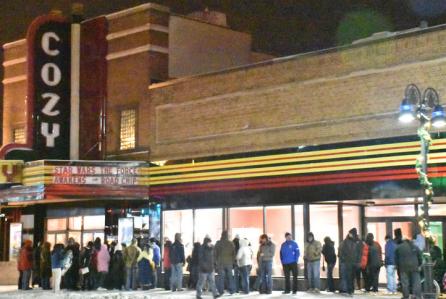 UPDATED 5:32 PM with final 2015 figures:In a box office year that's hit an all-time high of $11.13 billion, what major studio wouldn't be happy? How about most of them not named Universal or Disney?
2014 movie-going posted a -5% annual slide and admissions hit their lowest level since 1995 of 1.27B. Universal and Disney broke records with $2.446B and $2.28B respectively, but 2015 wasn't nearly as kind to everyone else. There were too many flops, from tent poles that didn't hit like Tomorrowland and Pan, to lower budget titles that included acclaimed entries like Steve Jobs and The Walk, that didn't appeal to audiences the way they did to critics.
"There wasn't enough depth at the box office (in regards to titles); there was too much business tied to few movies, instead of more movies," observes 20th Century Fox domestic distribution chief Chris Aronson.
Consider the dark side of 2015: four major distributors –-20thCentury Fox, Sony, Lionsgate and Paramount– saw double digit declines between -10% and -36% at the domestic B.O. vs. 2014. That wasn't all (see chart on right). Beyond a decrease in $100M-plus grossing films compared to 2014, this year's decline was partly attributable to higher grossing titles pulling most of the bucks away from those titles at the bottom. Specifically, seven films grossed over $300M this year, led by Jurassic World and Star Wars: The Force Awakens. Last year, only two films —  Guardians Of The Galaxy and The Hunger Games: Mockingjay Part 1 — eclipsed that mark at the domestic box office.
So despite the record-breaking year that saw huge performances by Disney's Star Wars: The Force Awakens ($652M) and Jurassic World ($652.27M)–as well as two back-to-back weekends this month whose $300M-plus take was the most in movie history–studio executives and producers come away concerned. There was a near collapse of adult-driven titles, and producers of those films will surely be under even greater pressure to deliver for lower budgets as a result. One film packager assessed that over the last 15 years, films carrying production costs between $100M-$150M remain the safest bets, breaking even 205% or more than any other budgeted pic group. The results of 2015 doesn't at all help the argument for films that don't fall into that category. They are the ones that need nurturing, but have more trouble than ever justifying big P&A spends.
In recent years, highbrow lower budget fare, i.e. True Grit, Black Swan, Social Network and Flight provided huge windfalls. This year, that business model didn't work at the autumn B.O. Total ticket sales dropped 19% to $1.2B since 2014.
"Smaller to mid-size movies have become a challenge," says Paramount worldwide distribution and marketing president Megan Colligan.
"The movies weren't good enough. That's all," adds Aronson about why middle-budget fare didn't click. "We are one year removed from The Fault In Our Stars. Let's not give up on the modestly budgeted film yet."
Others are less upbeat, like the international studio executive who said that in a few more years, movies on the marquee would be simply relegated to four-quad movies about explosions and men in superhero tights. Another producer lamented that the types of Oscar-winning titles that she used to shepherd are routinely dismissed by major studios. Now, she says, the places they are coveted is by streaming services and basic and pay cable networks if they can be worked into potential series.
Attempts to be disruptive by playing with traditional theatrical windows also had problems. In an effort to give some longevity to micro-budget genre films in a competitive market, Paramount experimented with a shorter theatrical window model on its horror fare Paranormal Activity: The Ghost Dimension and Scouts Guide To The Zombie Apocalypse last fall by quickening the progression to VOD and cutting participating theater chains into that revenue stream. Most major chains rejected the plan and didn't play the movies, stunting their theatrical revenue potential.
Paramount specifically targeted youth-oriented horror films because they conclude their initial revenue runs quickly and have a ready appetite of consumers waiting for the second window with that movie fresh in their minds. Collapsing windows are no help for adult-driven titles, which need time to generate word of mouth, and draw an audience that doesn't materialize that first weekend. Says one distribution maven, "Shrink the window and you change both consumer perception of how long they have to wait as well as the calculation as to whether it is worth seeing it in theaters or not. Anyone who predicts day-and-date for major releases is talking out of their hat. It doesn't work. The revenues just aren't there."
Others felt the main reason for so much futility for adult fare was the glut that competed for awards attention in the fall.
"I think we need to spread the titles around more instead of jamming them into the late third or fourth quarter, that's where a lot of adult-themed films get cannibalized. We need to take a beat and realize that we can get the same recognition at different times of year," says Weinstein Co. distribution chief Erik Lomis. He cited the April release of Woman In Gold as evidence that prestige films can succeed when spread across the calendar. The $11 million budget film grossed $33 million domestic and north of $60 million globally, but is anyone talking up Helen Mirren as a Best Actress contender?
Next year, more awards bait titles will try to thrive outside the awards corridor, including Gavin Hood's Eye In The Sky (March 11), The Coen Bros. Hail, Caesar! (Feb. 5), Oliver Stone's Snowden (May 13) and Damien Chazelle's La La Land (July 15).
Here's how those studios generating over $200M stacked up for the period of Jan. 1-Dec. 31:
| THUMB | STUDIO | NO. OF FILMS | % SHARE | DOMESTIC B.O. | % VS. 2014 |
| --- | --- | --- | --- | --- | --- |
| | Universal Studios | 26 | 22% | $2.446B | +119% |
| | Walt Disney | 15 | 20% | $2.28B | +41% |
| | Warner Bros. | 34 | 14% | $1.598B | +2% |
| | 20th Century Fox | 42 | 13% | $1.43B | -26% |
| | Sony | 20 | 9% | $965.8M | -23% |
| | Paramount | 15 | 6% | $674.7M | -36% |
| | Lionsgate | 26 | 6% | $665.5M | -10% |
| | The Weinstein Co. | 14 | 3% | $301.4M | +36% |
| | Other | | 7% | $771M | |
| | TOTAL BOX OFFICE | | 100% | $11.13B | +7% |
Universal got to $2.446B without a superhero in its slate. The studio used a combination of smart release dating (moving Fifty Shades Of Grey from August 1, 2014 to Valentine's Day weekend) and green lights on films that appealed not just to four quadrant audiences (Jurassic World in its multi-generational appeal), but specific demos (i.e. women with Fifty Shades, Straight Outta Compton, Trainwreck, Pitch Perfect 2).
The studio benefited from creating cathartic cinematic experiences–moviegoer interest seemed even higher in Furious 7, despite the tragic death of franchise stalwart Paul Walker. In an age where marketing execs struggle to attract millennials, Uni found a receptive audience in social media for trailers that became viral events: Jurassic World and Pitch Perfect 2 were passed around more than other titles this summer. Even microbudget Blumhouse fare (minus Jem and the Holograms) worked in a huge way: Carrying a $1M production cost, Unfriended made $63M worldwide, while M. Night Shyamalan's The Visit generated close to $100M worldwide off a $5M budget. Uni cleared the $1B and $2B at the domestic B.O. and the $3B, $4B, and $5B at the global B.O. faster than any other studio.
The one downside for Uni was their platforming of prestige fare – i.e. Steve Jobs and Legend; the studio didn't realize the limited appeal of Jobs until audiences failed to show up as the film broadened to mainstream level release.
Walt Disney Co. largely built their $2.28B milestone off the backs of four brands: Marvel, Pixar, Lucasfilm and Disney's own vault properties (i.e. Cinderella). Still the quintessential vertically integrated entertainment company that can hit a variety of demos throughout its various sectors such as ABC, Disney Channel and theme parks, Disney did have some hurdles which should come as a wake-up call for down the road.
Not everything that carries the Pixar logo succeeds, as evidenced by the lackluster performance of The Good Dinosaur, whose $114.8M domestic B.O. ($110.7M for the year) is the label's lowest grosser to date. Nor should Pixar exclusively bank just on kids under 10 showing up; they've always excelled greatly by appealing to both adults and children (as seen with Inside Out). Disney also needs to exercise a vigilance when investing heavily in the next theme park ride feature adaptation, after the flop Tomorrowland (production cost $190M, domestic $93.4M, global $209M).
Plagued with an array of big budget gambles that didn't deliver, it's amazing to consider that Warner Bros. is literally +2% at the box office with $1.598B. Some of that can be attributed to the fact that Warner Bros. dominated the early part of 2015 with American Sniper ($350M domestic), the biopic of Navy S.E.A.L. sniper Chris Kyle which played straight to the heartland. That film became the highest grosser of director Clint Eastwood's career.
The studio got some help also from New Line with the Dwayne Johnson summer film San Andreas–$155M gross–along 
with franchise revivals Mad Max Fury Road — George Miller's manic post apocalyptic thriller grossed $153.6M and is showing up on many Ten Best lists– and MGM/New Line's Rocky spinoff Creed, which is closing in on $100M for a Ryan Coogler-directed film that has Sylvester Stallone squarely in the awards mix some 40 years after his first and last Oscar nomination for Rocky ). While the studio has a longstanding reputation for delivering director-driven fare, Warner Bros. may have given them too much creative reign this year to overindulgent helmers spending north of $100M budgets. Too many of the studio's bets were dead on arrival, including Pan ($35M domestic, $126.9M global), Jupiter Ascending ($47.4M domestic, $183.9M global) and In The Heart Of The Sea ($23.75M domestic, $82.1M global).
They hope to have better luck next year from Batman v Superman: Dawn Of Justice, DC Villains' pic Suicide Squad, Todd Phillips' Arms and the Dudes and Harry Potter offshoot Fantastic Beasts and Where to Find Them.
Last year, 20th Century Fox delivered eight $100M grossers. This year brought only five. It wasn't the solid 
franchises that delivered the studio an annual total of $1.43B. Fox's highest grossing title, The Martian, dominated the autumn box office to reach $225.3M domestic, and has created a groundswell of awards season support for director Ridley Scott. Fox got its year going strongly with spy actioner Kingsman: Secret Service, which gives it another franchise after the film grossed $128.3M domestic, with a global take of $414.4M. Not everything followed Fox's 2014 success formula. Fantastic Four ($56M domestic)tanked, no doubt helped when its filmmaker Josh Trank distanced himself from the film on social media. On the YA front, an adaptation to novelist John Green's Paper Towns ($32M) paled compared to The Fault In Our Stars ($124.8M), while Mazerunner: The Scorch Trials ran behind its predecessor by 20% with $81.6M vs. $102.4M.
Sony finished with $965.8M, and saw close to 38% of that generated from MGM/Eon's Spectre and family animated film Hotel Transylvania 2. What's evident for Sony, particularly with the changing of the guard post Hack, is that the studio has to embark on a new set of habits with a 
renewed slate. Its previous staples of Adam Sandler, Seth Rogen and even Paul Blart have grown stale. Pixels ($78.7M domestic) contributed to Sandler's waning ticket sales, Rogen couldn't resurge with The Night Before ($42.9M)post The Interview. Meanwhile, Aloha represented a career low for director Cameron Crowe with $21M at the domestic B.O. in its controversial casting of Emma Stone as a half Asian descent woman.
Spectre's stateside ticket salespaced 35% off of Skyfall's $304.4M, but still wound up being the second highest-grossing Bond film ever. As MGM and Eon Productions settle on a domestic distributor for 007, one thing to consider is that the Bond films via Sony have seen their best grosses ever with four titles at $3.14B repping 45% of the franchise's $7B global gross.
Nearly 64% of Lionsgate's $665.5M annual B.O. was generated from YA titles The Hunger Games: Mockingjay Part 2 and The Divergent 
Series: Insurgent (as well as some MJ1 carryover money). The collective $423.6M domestic gross is down from previous chapters which grossed $493.3M in 2014. Moving forward, Lionsgate must build up more franchises, especially in their YA wheelhouse. The remainder of 2015 was comprised of adult middle grossers (Sicario, The Age of Adaline) and some edgy misfires (The Last Witch Hunter and American Ultra). Hope for 2016: The dirty comedy Dirty Grandpa, Gerard Butler in another sword and sandal film Gods of Egypt, The Divergent Series: The Allegiant, and Now You See Me 2.
Ten releases led Paramount to $674.7, -36% from 2014, when it had 14 new titles. Two films exceeded $100M — The SpongeBob Movie ($163M) and Skydance's Mission: Impossible – 
Rogue Nation ($195M). The latter was a bright spot for the studio, which spared itself the holiday onslaught and moved the film to July. In doing so, they weren't just trying to avoid Star Wars, but also wanted to grab as many PLF and Imax hubs as they could on July 31. Consider the feat that Par accomplished in making M:I5 the second-highest worldwide success story in the series ($682.3M): By cutting their buzz- building period in half, everything, from trailers to one sheets, had to be prepped sooner. Skydance's Terminator Genisys was expected to be the studio's third tentpole, but domestic audiences were indifferent, despite the return of Arnold Schwarzenegger ($89.8M domestic). Skydance is exploring a reboot, but don't hold your breath. Outside of those titles, it was a string of lower budget fare for Par, which saw production chief Marc Evans try to get his footing. The potential for a strong year in 2016 is there, starting with the Michael Bay-directed 13 Hours, and including Star Trek: Beyond, Teenage Mutant Ninja Turtles 2, Ben Hur, and Zoolander 2.
The Weinstein Co. saw a surge of 36% this year over 2014 with $301.4M. Leading the charge were two titles grossing in excess of $70M (whichdidn't happen in 2014) — the early winter family title Paddington and The Imitation Game ($71M of its $91M was earned in this calendar year). Southpaw was a summer adult sleeper, grossing $91.6M worldwide off a $25M net production cost. Most of TWC's payoffs from this year – i.e. the expansion of Carol and the wide release Quentin Tarantino's The Hateful Eight will be realized next year, particularly in the wake of Oscar season. Hateful Eight has accumulated $29M since opening on Christmas, with $13.3M of that during the calendar year.
Below are the top 10 films of 2015 per Rentrak Theatrical for the period of Jan. 1-Dec. 31.
| THUMB | RANK | FILM | DISTRIBUTOR | RELEASE | GROSS |
| --- | --- | --- | --- | --- | --- |
| | 1 | Jurassic World | Uni | June 12 | $652.2M |
| | 2 | Star Wars: The Force Awakens | Dis | Dec. 18 | $652M |
| | 3 | Avengers: Age Of Ultron | Dis | May 1 | $459M |
| | 4 | Inside Out | Dis | June 19 | $356.5M |
| | 5 | Furious 7 | Uni | April 3 | $353M |
| | 6 | American Sniper | WB | Dec. 25, '14 | $348.8M |
| | 7 | Minions | Uni | July 10 | $336M |
| | 8 | Hunger Games: Mockingjay Part 2 | Lionsgate | Nov. 20 | $274.2M |
| | 9 | The Martian | Fox | Oct. 2 | $225.3M |
| | 10 | Cinderella | Dis | March 13 | $201.2M |